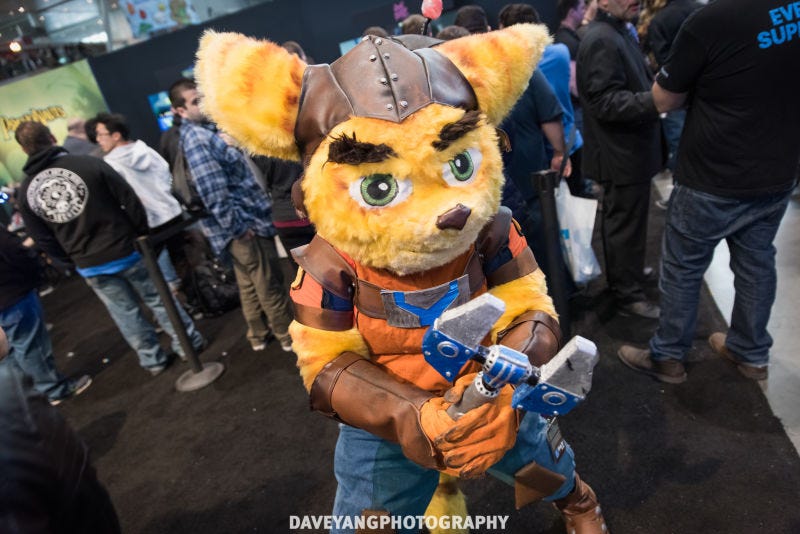 In 2014 I built my first attempt at Ratchet and Clank. Looking back...
it was TERRIBLE.
In the four years since, I've built and rebuilt theme two little monsters, and now... I'm ready to enter them in the Keystone Championships of Cosplay. I did enter an earlier version of Ratchet to NYCC in 2015, but it wasn't accepted, and honestly, wasn't anywhere as good as it is now.
I built all this stuff with a singular purpose: to make a costume that would stretch my limits and finally, finally, actually win a costume competition (yes, after all these years, I've never actually won one!). Okay, I lied, two purposes.
I built this for contest entry, and when the movie and game came out, used it like I use my entry from Eastern Championships 2014 (Rocket Raccoon)- for charity work.
My entry into NYCC's Eastern Championships 2014, Rocket Raccoon, attending a charity breakfast for a cancer patient in Bensalem, PA.
I'm so lucky to be able to have my skills to do this- and use my work after I'm done on the con floor- cheering up sick kids or doing fundraisers for others. Ratchet- wether he gets into the Keystone Championships or not, attended double digit charity events in 2015 and 2016 before making another redesign, and helped raise over $5,000 in for charities including the Children's Hospital of Pholadelphia and Child's Play.
I still do charity work as Gamora, Rocket, and Ratchet, and recently finished Dipper and Bill Cipher to add to that roster.
I'm a larger girl. I am not the typical 'anime' waif shape or the super heroine curvy hourglass. I am legally blind. But I still cosplay, and the smile on that little kid's face is why, right there.
So, let's get down to brass tacks.
Why Ratchet?
The answer is an interesting one: it was my first console game, and it's one that I was never able to beat until this year (well, sort of).
It's not a particularly hard game series (except possibly the first one, mainly because you have no weapon progression and no armor/health upgrades), but I'm legally blind. I got it about 14 years ago, not long after the red-box version of the game came out for the PS2. I never made it past Blackwater City (about 1/3 of the way through the game or so) no matter how hard I tried. My coordination was just that bad, and I eventually shelved it. Yaaaaay blindness!
Fast forward to about 8 years ago. I tried again, and made it to Gaspar, about halfway through. Got stuck again due to my reflexes, or lack thereof, and shelved it again.
Fast forward to two years ago. I finally pulled it out of storage and played with a friend who was feeling down, who was a fan of quirky space stuff. We got to the Gadgetron HQ before I graduated and moved away, the final quarter of the game.
Last year, I moved again, and got my own place. Bought a PS3. When the Ratchet and Clank trilogy was on sale in January for 5$, I snagged it. I promised myself I'd actually beat the damn game. I got to the final battle with Drek, ran out of ammo... and rage quit to the second game, and have since beat all nine other titles.
So, yeah. This is kind of a big deal for me. Ratchet and Clank is the physical representation of me overcoming my disability, and that's pretty damn awesome.
Reference Images
Ratchet
Movie poster.... good view of the side mesh on Ratchet's pilot suit, and the dirt on his shoes, which I painted on mine after making them.
Ratchet smirking. I modeled the mascot head off this image, which you can see better in the photos below of the finished costume.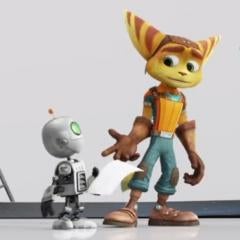 If you notice, I made one major and one minor change from the movie costume- I made the gloves from where the seam splits on the back of the hands orange to match the top of Ratchet's flight suit instead of the brown. It just looked better, and took to fake dirt more easily. I also put the two metal snaps on the harness horizontally (side by side) instead of vertically; they looked much better aesthetically.
Clank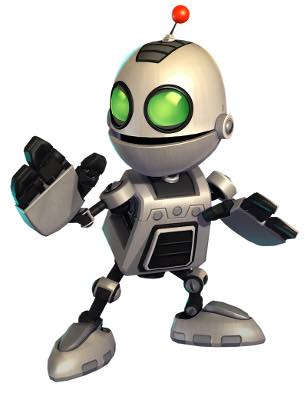 Clank was a mish-mash of the different styles over the years. I liked the feet from one game, the head from another, the chassis from a third. I didn't make movie Clank, because I could not find good images for him from the movie on Ratchet's back. He's always standing on his own, with the limbs out instead of compacted.
Head/Neck, Hands - All 4 One
One of the more recent games, Clank's head became rounded with a black top grill (that separates when he flies, a propellor comes from there). I liked this head design more for its smooth lines and rounded, friendlier shape. I also did his "closed" version from this game, where his hands stick out slightly.
Compacted Body- Going Commando/ Up Your Arsenal
The classic body, with the neck piece suspended over a small dark metal dip, lust looks better, especially when Clank turtles his head inside his neck cavity. Round pegs don't look good in square holes! The feet in this version retract, in too, though, and I don't really like that. Nor do I like the head. At all. Here's Clank "open", for better detail.
Feet: Tools of Destruction
So I used the feet from Tools to round out Clank. I love his feet here, they look like little irons!
Photos/Videos of the costume
Photos of the OLD Costume, for some comparison!
Me in My Costume
Proving to you that there is, in fact, a human in there. A lady, no less! Quark would be so confused by this, I'm sure.
Read More: Build Logs
These logs are VERY old, and include old head, Clank, etc, but they can at least show some of the design challenges I faced.
Here's how I made Ratchet's movie flight suit
CospLAZY: Duct Tape Pattern Like a Pro
What Was Made By Me
Here's a breakdown of what was made entirely by me, what I got help on, and what was purchased, it exceeds the 50% mark needed by the rules.
Mascot head: Made by me with no help
Pilot hat: Made by me with no help
Flight Suit: Made by me, friends helped hold things in place as instructed.
Belt: Made by me with no help
Harness: Made by me, friends helped hold things in place as instructed.
Shoes: Purchased shoes to use their soles, cut off rest of shoe and made all of the rest of the shoe from scratch
Gloves: Purchased base gloves to disassemble for fingers, made gloves from scratch from palm up
Tail: Made by me with no help, including tail movement.
Clank: Made by me including all electronics (his eyes), programmed a laser cutter to build the body without assistance.
Wrench: Purchased squishy foam prop that was extemsively rebuilt and painted
Materials
Here is the list of materials that went into the costume and props, in no particular order:
Fabrics:
Yellow fun fur 2 yards (Ratchet's head, tail, arms)
White fun fur, 1/8 yard (Ratchet's tail)
Orange bottom weight 1.5 yards (main shirt)
Dark orange Kona cotton 1 yard (shirt detail)
Blue sport mesh 1/2 yard (Shirt detail)
Jean fabric 2 yards (pants)
Dark green jean-like cotton bottom weight 1.5 yards (Pants)
Brown satin 1/8 yard (shirt detail)
Brown pleather 2.5 yards (kneepads, boots, harness, gloves, hat, nose)
Dark brown stretch pleather 1 yard (boots, goes, hat)
One navy XXL T-shirt, cut up for fabric (cheaper than buying the navy jersey off the bolt) (shirt)
Buckram window screen 1/8 yard (eyes)
Not Fabrics:
Googly eyes (all the rivets on hat, boot buttons, Clank)
Uphostery Foam (Ratchet's Head)
Armature Wire (Ratchet's Ears)
4 yards black cotton piping (shirt)
3 in. black elastic (pants, belt)
1 roll reflector tape (harness, belt, boots)
3 feet of LED jelly strip (Clank)
EVA floor mats (Clank's body)
Yoga mats (Clank's jaw)
10' foam florist ball (Clank's head)
Foamies (Clank's 'busted' head detail, eye plates, Ratchet's harness, boots)
Kid's prize machine capsules (antenna ball on Clank )
1 sony speaker system, cannibalized for parts (Clank's "Time Bomb")
Alcohol based dyes in brown, orange, yellow, white, and red (dyeing Ratchet's fur)
Glues, thread, velcro, snaps, hook and eye closures, soldier, electrical tape, duct tape, spray paint, acrylics, shoe polish, buttons....
Thanks
Alan Markham: Photography
Emi Lo: Photography
Diomira Keane: Photography assistant
Ryan King: Photography assistant